Welcome to the homepage of Grace Baptist Church of Smyrna, Delaware.  I am Pastor John Cereghin.  Our church is located at 121 South Union Street in Smyrna, at the corner of Union and Frazier Streets.  Our mailing address is P.O. Box 66, Smyrna DE 19977.
We are a small church that supports 13 missionaries in 9 countries. We are the sending church of the Brian Pratt Family in India.
If you are looking for a small but friendly church that stands for Remnant Christianity, that stands firmly on the King James Version of the Bible (as we have since our founding in 1978) and that promotes heart purity and traditional worship and music, then we invite you to visit us.  You can email us at pastor@pilgrimway.org or jcereghin@gmail.com. You can also leave a message at 302-359-6447 (pastor's cell) or 302-653-6348 (church office). Our service times are Sunday 10 AM (Sunday School), 11 AM and 6 PM.  Wednesday Prayer and Bible Study at 7 PM.
We are livestreaming services on Facebook on our church's Facebook page at https://www.facebook.com/GraceBaptistChurchOfSmyrnaDelaware . 
Check our Writings and Commentaries page for continually updated commentaries.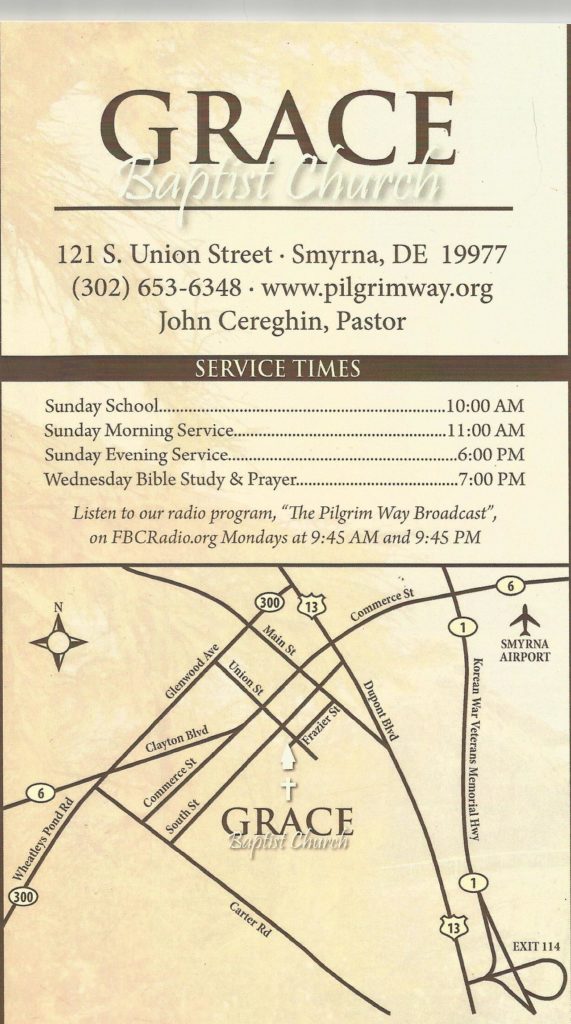 Our Distinctives:
1. Traditional worship
2. King James Bible
3. Classical hymns, sacred/traditional music
4. Missionary
5. Promoting Remnant Christianity 
6. Separatist
Grace Baptist Church was started in the providence of God on February 18, 1978.  God allowed us to purchase our current building in 1979, which was built in 1907 and was originally a Methodist church.  Pastor Cereghin is the third pastor in Grace's history, starting his ministry here in 1998 after serving  as Academic Dean of Maryland Baptist Bible College of Elkton, Maryland and after having served in pastorates in Centreville, Maryland and Mebane, North Carolina.
Grace Baptist's heritage is ancient, going all the way back to the Apostolic Age.  We claim, as part of our spiritual heritage, the grand old groups such as  the Donatists, the Waldensians, the old Swiss and German Anabaptists, the Mennonites and Brethren.  Grace Baptist is a part of a "post-Fundamentalist"  movement known as "Remnant Christianity", signifying the numerical smallness and spiritual humility of such  churches and Christians.  We make no great claims for ourselves and we have no aspirations for worldly greatness.  Our only desire is to preach  Christ and Him Crucified and to remain faithful to the Scriptures in this corrupt generation.  We identify ourselves as a Bible Believing, Remnant Baptist Church, standing on the King James Bible..
You will find at Grace Baptist a small but precious congregation of believers.  We sing the old hymns of the faith and the psalms.  We preach and teach from the King James Bible.  We practice ecclesiastical and personal separation from sin and error.  We support missions both here in the United States and worldwide.  We emphasize the preaching of the Word of God and prayer above all.  We place a strong emphasis on the doctrine of sanctification. We invite you to visit us if you are in the central Delmarva.


Listen to The Pilgrim Way Broadcast, every Monday at 9:45 AM and PM Eastern time on www.fbcradio.org